Internet-Related
April 28, 2006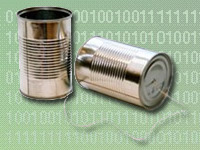 I've been trying to think of a good way to relate RSS and email to people who know nothing or very little about it, and have been a little stuck. I'm a huge fan of RSS, and get a ton of targeted, useful information via the RSS feeds I subscribe to about online marketing, other data related to my job, and even food recipes. Meanwhile I basically use my email to filter out 5 pieces of spam to read one "real" message.
I'm sold on RSS and look forward to it becoming more popular and easier to use when the new version of Windows comes out and more people start using IE7 and other browsers with RSS readers built in. However, the majority of Internet-users do not use RSS, and probably most don't know what it is. And even after explaining to someone how the technology works and what i...Read entire article
Alexaholic - Alexa Traffic Analyzer
April 13, 2006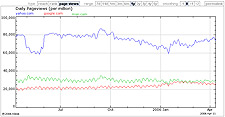 In a previous post, I talked about how Google PageRank and Alexa Rating might be linked somehow. With all the talk that Google PageRank doesn't really mean anything anymore (which I don't really agree with), it would make sense to look for another, perhaps more precise, top-level traffic indicator.
Enter Alexa. Alexa has been around for awhile but still seems to be something new to many Internet-users. Indeed Alexa even mentions on their site that their numbers are based on only 10% of Internet-users whom they believe have their toolbar installed. While 10% is nothing to scoff at, it is a smaller sample of overall Internet usage. However, by using the Alexa toolba...Read entire article
Corporate Blogs Vs. Content Updates
April 10, 2006
Ok, so the title of this post is a little deceiving. You'd think I'm implying that there is a difference between corporate blogs and regular content updates, but I'm not. My whole point is that "blog" in the corporate world is simply a catch-phrase.
I've been seeing a number of sites and businesses rise on the Internet that claim to offer corporate blogging services. These services claim that by adding a blog to a corporate website it can bring in new traffic and increase exposure. While this may be true, the term "blog" is completely superfluous.
I guess the first thing we need to do is define the term "blog". To me, a blog is a website that is run by an author who posts ideas and opinions about whatever subject they think is appropriate to post about. That's it! I gu...Read entire article
Writing a Web Design Proposal - Know Your Customer
April 03, 2006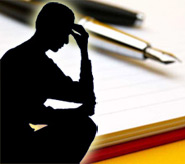 Being involved with "web design" for quite some time, I've written my fair-share of web design and marketing proposals. While I think a template sort of approach may work for any project, the language you use, the length of the proposal, and the amount of information you present all play heavily into how well the proposal is taken by the possible client.
For example, while working for a marketing company for about 5 years, I often wrote proposals for small businesses. These businesses were all over the map as far industries were concerned, but they were all small businesses and none of them had much time to spend on their website development, let alone going through a lengthy indepth proposal. So long as I stated the basic parameters of the site or marketing plan, and the bott...Read entire article
The Google PageRank - Alexa Rating Connection
March 20, 2006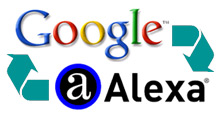 I used to believe that if a website had a good (4 or above) Google PageRank, it was getting a lot of traffic. By definition a site that has a lot of incoming links, and quality incoming links will get a higher PageRank. The more quality incoming links the better, and thus a higher PageRank. I used to petition other sites to link back to my sites purely for the Google PageRank factor, to drive that number upwards. But now, while I still spend a decent amount of time searching for link partners, I do it because I understand it will bring untapped traffic to my sites, not just to raise my sites' PageRank.
About two years ago a client at my former job brought Read entire article
March 15, 2006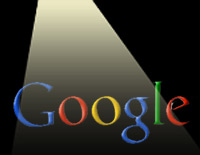 I have recently written two posts about the problems with Google. Lately I've been hearing other people such as Danny Sullivan at SearchEngineWatch (read his article here) or SEO-Scoop.

The general argument seems to be that Google is moving too fast, in too many directions, and is losing focus on all of its projects, especially natural search. While I think Google does have some problems (especially with its logo/brand image and some of its apparent ranking methods), I'm not ready to start faulting them for their business acquirements and project rollouts just yet.

As a matter of fact, I criticized Google for not keeping pace ...Read entire article
March 08, 2006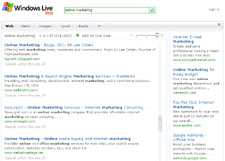 Just found out that MSN Windows Live is launching a new BETA of their search today. I checked it out and thought it was a pretty interesting twist on the "normal" search engine standards.
I think one of the coolest features is the fact that they got rid of pagination. Instead of clicking through page after page of results, they have implemented a slider on the right side of the results that allows you to scroll through all the search results on one page. You'll notice if you try it out that it does not load every single result onto the page and that it does, in fact, briefly pause while the next subset of results are loaded, but the delay is so short it is almost seemless. Does this mean everyone can land...Read entire article
RSS Feed Creation - Basic Guidelines
March 02, 2006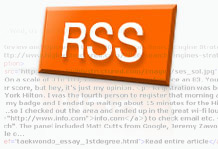 I started syndicating content via RSS feeds in December of 2005. I produce my own blog and created the software myself that powers my blog and RSS feed. I would say most blogs out there use some form of pre-packaged blog and syndicating software such as WordPress, but because I have some knowledge of PHP and database programming, I decided to construct everything myself.
Because of that I've started out with barebones features on my blog and RSS feed and have slowly been adding to it. This is really a side project so I can't spend too much time on it and because of that, I can only add features which I think are vitally important.
Below are several guidelines I feel are important for putting together an RSS feed to give it the mos...Read entire article
January 24, 2006

RSS (really simple syndication) is poised to enter the market this year as another viable outlet to broadcast information. Instead of website "pushing" content to users (via email or other outlets), RSS enables the user to subscribe to certain content feeds and "ask" for the information. No more annoying emails, no more spam emails, no complicated unsubscribe methods. If a user doesn't like the content they are receiving, they simple delete the feed from their feed reader and it's gone!
RSS is starting to catch on, and I believe it can be used in tandem with any type of active website. Note the word "active". The entire purpose of creating an RSS feed to syndicate your content is to let people know you have a constantly evolving website that updates information at least somewh...Read entire article
January 12, 2006
I noticed a surprising trend on one of the larger sites I currently develop and maintain. I check the server stats daily and use three different methods: Webstats (provided by the hosting company), Urchin stats (provided by the hosting company), and Google Urchin (enabled via javascript). While we consider pageviews to be the most important indicator of traffic, by default I also check the hits and requested files stats.
What's happening is that our RSS feeds are starting to register as some of the most widely hit "pages" on the website. We have four different RSS feeds on the site, three unique RSS feeds, and a main RSS feed which incorporates the top entries from the other three (duplicate content, I know). Right now, the four RSS feeds are all in the top 10 most requested p...Read entire article
January 04, 2006
When I was first introduced to graphic design, I learned about "old-school" book covers from the 50's and 60's. One of my drawing fundamentals teachers at Rutgers had been a graphic designer his entire life and was in fact, at the time, studying for his PhD on the subject. He brought in some of his older book cover designs and I was immediately intranced in the simplicity of lines and colors. Instead of a photo-realistic picture, the designs were illustrative and abstract...there could be no wrong.
Fast-forward about 6 or 7 years and I now categorize any type of visual design as "graphic design". Whether it's graffiti, a book cover, or a Flash animation on a website, it falls under graphic design. Any type of visual artwork put together for a "commercial" reason, or any type o...Read entire article
The Dangers of Internet-Based Businesses
December 29, 2005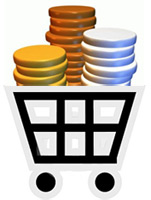 The Internet has enabled anyone with an idea and some kind of drive to make money. It seems as if every day I come across "get-rich-quick" websites, or websites claiming to enable you to make thousands of dollars a month with an Internet-based ecommerce business. The truth is that these are too good to be true, but at the same time, many people/businesses are making a considerable income with Internet-based stores.
I never really gave much thought to the dangers of having an Internet-based business until I recently changed jobs. I had two offers from two extremely different types of companies. One a consulting firm (which is the job I ended up taking), and another from a purely Internet-based business. When I say "Internet-based", I mean selling products without having a physi...Read entire article
December 22, 2005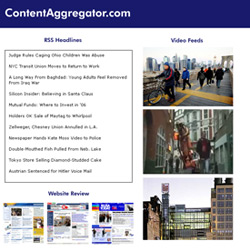 If the past few years were about the search engines and the honing of email marketing, the next few years will see the ubiquity of RSS feeds and a new type of launching point to browsing on the Internet.
RSS feeds bring about an important change in the way people approach the Internet, providing a new starting point to browsing the web. Instead of specifically looking for websites, website content is selectively delivered to a common interface to be chosen to be viewed. RSS feeds are the beginning of the ability to aggregate content and store it in a central repository for perusal at whatever time the administer sees fit. Part favorite's list, part Tivo, RSS feeds finally put the power in the hands of the visitor to choose which content he or she wishes to receive.
December 19, 2005
Recently I've been noticing an alarming trend with RSS feeds - long descriptions.
I started using RSS feeds not too long ago, and I've praised RSS feeds for their ability to deliver targeted content in a quick, to-the-point manner. It's great to open my RSS reader and see the latest headlines from my favorite sources clearly organized and easily accessible. Often I may not even read the description contained in the RSS feed and simply click the corresponding link to read the entire article. However, I'm finding that I'm almost offended when an RSS syndicator uses extremely long descriptions in their RSS feeds.
Case in point - SEOBuzzBox.com. This is a great site with a lot of interesting content that I read daily. They often have...Read entire article
RSS - When Will It Hit Critical Mass?
December 15, 2005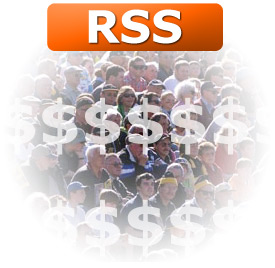 Over the past year I have been hearing more and more about RSS, RSS syndication, and advertising in RSS feeds. I myself, who I consider to be pretty "Internet-fluent" have only just started using RSS a short time ago. I've been hearing the buzz about it, but it wasn't until I decided to turn my long-running website into a blog website that I started to subscribe to RSS feeds. I also found myself getting into the routine of incessantly checking the websites I usually go to for up-to-date information, news, and general content.
RSS has changed the way I view the Internet. Instead of opening up my browser and either clicking on a link in my favorites list or typing a URL directly into the address bar, I now open my RSS reader and wait for the headlines to come to me. It was a lit...Read entire article
RSS and Blogs - The New World of Conversation
December 14, 2005
Over the past year or so, RSS and RSS news feeds have really started to play a prominent role in how Internet users access informatino online. While RSS/XML have been around for awhile now, it's only just recently they have begun to catch on with the general public. I believe this is due in part to the advertising potential marketers and businesses see with RSS feed advertising. But of course, there would not be a potential without some sort of general public following. Whatever the case, more and more people are starting to author their own blogs and generate their own RSS feeds which are, in turn, aggregated and read by those interested.
Definition of a Blog
A blog is an information dissemination website created by opinions. While maybe not exactly consistent wi...Read entire article