Search Engine Optimization
Review and Opinion of the 2006 New York Search Engine Strategies Conference
March 01, 2006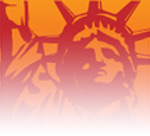 On a scale of 0 to 100, I would rate the conference an 83. You may think that's a little harsh and would expect a better score, but hey, it's just my opinion.
Registration was between 8-9am and I arrived just before 8am to the New York Hilton. I was the fourth person to register that morning and of course the printer broke that was supposed to print my badge and I ended up waiting about 15 minutes for the Hilton computer team to fix the problem. Not a big deal...so I checked out the area and ended up in the great wi-fi lounge (sponsored by info.com) to check email etc.
The first session I attended was "Pundits on Search". The panel included Matt Cutts from Google, Jeremy Zawodny from Yahoo!, Robert Scoble from Microsoft, and a couple o...Read entire article
Search Engine Strategies Conference - New York 2006 - Preview
February 24, 2006

As I get ready to attend my first Search Engine Strategies Conference next week at the New York Hilton in New York City, I'd like to list out some of the classes and talks I plan on sitting in on. I will be attending the Tuesday, February 28 agenda and will be sitting in on 4 sessions.
The first session I've chosen is "Pundits on Search". As described on the SESC website, this session will feature top names in the search engine optimization industry and include Matt Cutts and Jeremy Zawondy, from Google and Yahoo! respectively. In particular I look forward to hearing from Matt Cutts, whose blog is a quite popular read. Most people in the industry pay attention to what he has to say (he's a lead engineer at Google!) and I'm hoping to ...Read entire article
Personal Search Engines - The Internet Free-For-All
January 06, 2006
In a previous article I discussed the monopoly that Google has become in terms of Internet search. Basically just about anyone performing a search is opting to use Google to find relevant websites. As a friend has reminded me, monopolies "cause the market to be inefficient by limiting competition therefore limiting innovation". So, we are left with Google's algorithms to determine which sites are relevant, and which are not. With billions and billions of websites vying for the top spot on Google, chances are they will not break into the first page.
I commented that a solution to this "problem" is a Custom Search Engine, and I'd like to discuss exactly what this is.
Custom Search Engines
January 05, 2006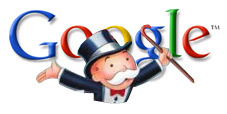 Google is the search king. But you already knew that. You know that when you want to find information on the Internet, you type in www.google.com (if it's not already your home page) and type in whatever you're looking for. If you don't get satisfactory results you go back to Google and try again. This is the standard process almost every time anyone wants to find something on the Internet.
That's great, and Google is a great search engine. Most of the time I get relevant results and I can usually find what I'm looking for. In the past I've seen too many "directory" type websites come up at the top of the results, but that is a topic for a different entry. The point is that EVERYONE uses Google (except perhaps those that work for the other search engines...).
In addi...Read entire article
The Problem with Google - Part II
December 27, 2005
As I have stated in a previous article, I think Google is teetering on the edge right now of becoming "super famous" and laying the ground-work for a new kind of "super Internet company". Besides lagging (at least I think) in introducing novel search concepts to the general public (forget the Google Labs Ride Finder, Transit, Video search, etc.), I believe there is a more fundamental concept Google and indeed all the major search engines are missing.
As a purely information retrieval tool, Google and the search engines are excellent. The ideal scenario for using a search engine is to find "academic" information on a particular subject. "Why is the sky blue?", "world land speed record", and "highest mountain...Read entire article
2005 Search Engine Optimization Holiday Wish List
December 23, 2005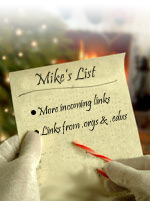 As the end of 2005 approaches, along with the major commercial holidays, I've compiled a holiday wish list I hope to receive from the search engines this year. Come on, I haven't tried to do anything to trick the search engines into higher rankings this year!
200 high-quality incoming links for KeepMyGolfScore.com
Last year we saw great success for KeepMyGolfScore.com. We received 1500 new members, 1/3 more than we predicted/hoped for in 2005. One of the main reasons was the work we did to get other relevant websites to link to us. This is no easy task as we literally searched, visited, and asked, probably close to 500 websites to link to us (with a link back to their site of course). This proved to be very effective in the long-run as we've now compiled...Read entire article
Search Engine Optimization Plans
December 21, 2005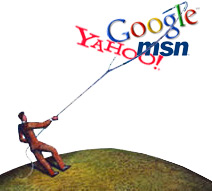 Search engine optimization is a very broad term. The term encompasses everything from keyword research to site comparisons and goal assessment. As a provider of these services, it's important not to make the explanation of such services too overly-complicated. From a purely "sales perspective", the average website owner depends on you, the prospective search engine optimization provider, to: get results, and provide a simple, to-the-point explanation of those services. Therefore, an organized approach must be used when explaining search engine optimization to prospective clients to make sure you offer a comprehensible set of services and explanations to any type of buyer/business.
I thought that it would make sense to break down the different search engine optimization ...Read entire article
December 11, 2005
Google is a great search engine. I would say I use Google for 95% of my searches and I always get returned websites that I find useful. Google is a great search engine for the general public performing searches, and that "sector" will always be the single most important factor in the company's survival.
Google has become a new type of business, the first seriously-taken "survivor" from the end of the nonsensical funding of new Internet-based businesses in the late 1990's / early 2000's. And for that reason, Google will definitely be written into the history books. But I believe they can do better, and will need to do better, to convince "everyone" that they are worthy of $500/share and beyond.
All businesses are now on a new playing field and the door has been opened b...Read entire article
2005 - The Year of the Search Engine
December 09, 2005
Ahhhh, the search engines...the glue that holds the Interent together...the most trafficed sites on the Web...where would we be without them? Search engines are often the launching point of many many web surfers today every time they open a new browser window.
I remember when Google first came out. Or maybe not when it first went online, but started gaining a following. I was still using AOL, and to be honest, I don't think I really performed many web searches. I remember using Alta Vista and Webcrawler, but it was rather sparingly. As I spent more and more time online and started getting into web design, I came across an article in a magazine about the best search engines. I saw Google on the list and...Read entire article
Increasing Search Engine Rankings with RSS Feeds
December 07, 2005
Recently the buzz online regarding increased ranking on Google and the other search engines has been the use of RSS syndication. I've seen RSS around for awhile now but with the advent of all the major search engines incorporating a "News" search, and some of them incorporating a "Blog" search, RSS syndication seems to be a way to gain a stronger presence on the search engines very quickly.
In short, RSS syndication is a way of providing your site's headlines in a compact, formatted, "packet" for RSS readers/parsers and the search engines to read. On your website you may have a "Latest News" section, or you may update your site's content somewhat regularly. Whatever the case, if you update your site with new "articles" every-so-often, it would be worth your time to investigate RSS...Read entire article
General Guidelines for Optimizing a Web Page for Google and the Search Engines
December 05, 2005
Over the past few years I've been able (and forced) to spend time researching and experimenting on how to get websites to rank higher on Google and the search engiges. Sometimes referred to as search engine positioning (SEP) or seach engine optimization (SEO), I relate it to "black magic". I don't think anyone really knows how it works, and even Google admits it's a rather automated process. It's not as if anyone is sitting at Google selecting which site is number one or number 5,000 for a particular search term. The search engines use their own algorithms to automatically rank websites in their index.
What further complicates the matter is that each different search engine seems to have different rules to rank websites in their index. A high ranking on Google does not necessarily...Read entire article