Online Marketing - The Value of Blogs
March 27, 2006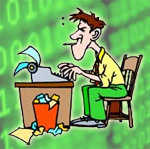 Online marketing is an all-encompassing term. Does it mean search engine optimization? Does it mean working on linking strategies? Does it mean sending out press releases? Does it mean putting together pay-per-click advertising campaigns? Does it mean maintaining and sending out to an email list? Online marketing means all those things and more!
One of the most important fundamentals to remember though is that you need something to market. Without developing new content, and developing it often, you will soon run out of steam with your marketing strategy. You may have all the systems and resources in place to use every kind of online marketing tool imaginable, but without fresh content, you have nothing to broadcast.
Recently blogs have become all the rage. Technorati is currently tracking 31.4 million blogs, backing up the claim that blogging is quite popular. There are many different reasons people blog...it could be as a personal diary, it could be just for fun and to keep up with a specific group of friends, and then there are the "business bloggers". I'll use that term because there is an ulterior motive to these types of blogs besides just presenting the world with information and not caring who, if anyone, actually reads it.
Business blogs are not just blogs run by a senior executive at a company with 5000 employees. Business blogs can be run by smaller organizations, or even by people like myself. Blogs serve a very important purpose for these types of people because it offers constantly updated content. The people who run these blogs by default need to stay ahead of the curve and keep themselves immersed in the current state of affairs within their industry. If they don't, they run out of topics to write about!
I'll use my own blog as an example. I blog because I feel like I have a lot to talk about and opinions to offer on the topics I write about and am immersed in on a day to day basis. These topics, because of my job, happen to revolve around marketing, online marketing, search engine optimization, Internet technologies, and the like. While I do have a section on tae kwon do, which keeps this blog more of a personal venture, most of it is made up of content related to online marketing. This blog is also a challenge and test to my online marketing skills. If I'm always talking about how to optimize and promote websites and email campaigns etc., then I should have a successful site, correct? If not I would be like the typical "Monday-morning quarterback" who knows everything there is to know about how to run a football team, yet has never won a game. In addition, and probably the most important reason for writing this blog, is to help out the "regular" websites I work on and promote. The traffic that this site generates can be valuable traffic that leads visitors to the other sites I work on.
A blog is really just one big "editor's opinions" page from a newspaper. Just about every article in every magazine is written from an opinion standpoint. Blogs are no different. However the benefits can be great if content is constantly updated and new entries are posted. Blogs don't even have to be considered blogs! On a coprorate website it is absolutely fine to have a section that is maintained and updated by a staff of editors and not call it a blog. It could be called the "Articles" section, or the "Recent News" section, or anything that relates to new and fresh content. Whatever the case, "blogs" are a great way to generate new content and more traffic to a website. When considering a blog it is important to remember that every new post is one more chance for a visitor to find your website.
Technorati Tags: blogs online marketing search engine optimization