KeepMyGolfScore.com
New KeepMyGolfScore.com 19th Hole Golf Blog Launched
March 10, 2006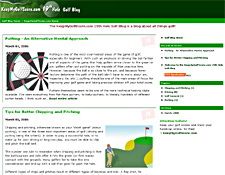 The KeepMyGolfScore.com 19th Hole Golf Blog is now officially online! The inaugural post marks the update to the vastly improved and comprehensive KeepMyGolScore.com Golf Score Tracker.
We (my friend Matt and I) originally launched the site in 2001. At the time I was basically just a standard web designer with a strong graphic design background. I knew HTML, I could implement Javascript, and could put together basically any kind of static page. But, I had not yet started getting into PHP and database programming to produce dynamic sites. Because of this, another friend of mine helped with the PHP/database programming. The concept for KeepMyGolfScore.com was to charge people a yearly...Read entire article
KeepMyGolfScore.com Winter 2006 Updates
February 22, 2006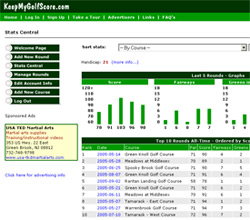 As stated in an earlier post, we have many planned updates for KeepMyGolfScore.com for the upcoming golf season. I say upcoming as we are in the northeast where, unfortunately, the golf season does not last the entire year. The programming/development updates are nearing completion and should be enough to entice new users to sign up, and make it more compelling for potential advertisers.
The new stats page, Stats Central, has been completed. This new page will contain more of the "lifetime" stats and best/worst stats overall for golfers. These stats used to be on the Welcome page, but with some other additions, the Welcome page is now displaying more current sta...Read entire article
KeepMyGolfScore.com Planned Updates to Increase Visitor Traffic and Raise Search Engine Rankings
December 20, 2005

At this beginning of the new year (2006), the KeepMyGolfScore.com golf score tracker will begin to undergo a few major updates. These updates include graphic/visual upgrades, a new golf stats page, graphical displays of recent golf stats, an improved advertiser system, and a redesigned front page. The goal is to improve visitor traffic to the site via Google and the other search engines, to increase new user memberships, and start accumulating online advertisers. In the first full year after the site redesign, KeepMyGolfScore.com has received 1500 member signups. We hope to more than double that number in 2006.
New Stats Page - "Stats Central"
One of the highlights of the update will be the creation of a new "Stats Central" page. Stats Central will contain the m...Read entire article
KeepMyGolfScore.com - Search Engine Positioning - Online Marketing - Part II
December 06, 2005
July and August were the biggest months for KeepMyGolfScore.com (in terms of traffic, new user signups, and search engine ranking). Our first page rankings on Google, MSN, and Yahoo! for "golf score tracker" and "online golf stats" stayed consistent, we did not move.
Since golf is a somewhat seasonal sport (at least in areas of the U.S. where seasonal changes have a significant impact on temperatures and general weather. In September, after Labor Day, when fall "unofficially" starts, our traffic started to drop. We were expecting traffic to drop in August (which it did slightly in comparison to July), but when we saw the numbers were so close to July which was a blowout month for us, we were very happy. So the drop-off in traffic was ex...Read entire article
KeepMyGolfScore.com - Search Engine Positioning - Online Marketing - Part I
December 05, 2005
KeepMyGolfScore.com is a free online golf score tracker where golfers can enter and manage their golf stats and golf handicap. The service was originally online in 2001 but went through a complete overhaul and was re-published last year (2005). Within that time the site has seen over 1500 users subscribe and first place ranking on Google, MSN, and Yahoo! for the search terms "golf score tracker" and "online golf stats".
I will attempt to explain the strategies used to achieve these results. The service reaches for a niche market, online tech-savvy golfers. The audience can be pretty diverse age-wise, but the keywords we are going after are well-defined. The two main keywords which describe the service are "golf score tracker" and "onlin...Read entire article