Affiliate Program Experiment
March 29, 2006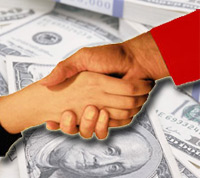 Creating a website that passively generates revenue is the number one goal for most website operators. I shouldn't say that actually as there are many reasons people build websites. But many people, whether they are building a website to generate extra revenue or not, will ultimately start to explore ways of monetizing their website to generate some kind of income.
There are many different ways to "monetize a website". I attended the New York Search Engine Strategies Conference not too long ago and was astounded by the sheer number of pay-per-click and online advertising companies. Every one offered a program that was better, generated more traffic, or had a higher pay-per-click than the next. From a publisher stand-point they all promised highly targeted and relevant ads, that they are adding to their network everyday, and that their solution was the easiest to work with. Then of course there is Google and their AdSense program. There are text link ads, graphical banner ad servers, content matching ads...the list goes on and on.
These types of ads are great and I'm sure they can generate revenue, but they are all traffic-dependant. You can almost estimate how much money a site is likely to make implementing these ads just based on the number of pageviews they receive. I know there are other considerations such as where the ads are placed, what type of ad is used, etc., but ultimately it comes down to traffic to generate a few pennies per click.
The most lucrative types of ads to run are ones from companies that you contact directly. Instead of joining an ad network program that automatically serves ads, it is very worthwhile to target other website and prospects that need your audience to generate exposure. If you run a website that deals with food recipes, naturally you would want to target the food industry! These types of ads, when used in conjunction with enews sponsorships and other types of ads besides your "standard banner ad" can generate good money. But those types of ads are a topic for a future article...
I've recently gotten involved with another type of "ad", affiliate ads. I've joined Commission Junction to be able to run affiliate ads on one of my sites. Basically you sign up for a free publisher account and immediately have access to what appears to be thousands of affiliate programs. The way it works is that when someone clicks on an affiliate ad on your site, the affiliate company stores a cookie on the user's computer that dictates which site they came from. If they make a purchase on that site before a certain deadline (typically 30-45 days depending on the affiliate), you get a commission on the sale.
I would say the average commission amount is 10% of the sale. You cannot automatically join any affiliate program, you have to apply and be accepted by the affiliate. In addition, there is another, more lucrative commission program that deals with leads. Many affiliate programs, especially ones run by insurance and financial institutions, offer a flat fee for every lead. A lead is someone that goes to the affiliate site and fills out and submits a specific form.
So, the experiment commences. I've been part of Google AdSense for almost a year and have generated little money from the program. However, I was only running the ads on secondary pages of the website and not on the home page or user account pages. Now, with the affiliate program, the ads are being run on every page, including the user account pages, and the new blog that has been launched. I've incorporated many different affiliate ads from topic-specific ads to lead-type affiliate ads. I still believe the best ads to run are ones that are acquired through direct contact with a company, but I hope the affiliate ads will prove to be more lucrative than the Google ads. Only time, and traffic, will tell!
Technorati Tags: affiliate programs pay-per-click online marketing website monetization