2005 Search Engine Optimization Holiday Wish List
December 23, 2005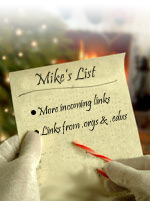 As the end of 2005 approaches, along with the major commercial holidays, I've compiled a holiday wish list I hope to receive from the search engines this year. Come on, I haven't tried to do anything to trick the search engines into higher rankings this year!
200 high-quality incoming links for KeepMyGolfScore.com
Last year we saw great success for KeepMyGolfScore.com. We received 1500 new members, 1/3 more than we predicted/hoped for in 2005. One of the main reasons was the work we did to get other relevant websites to link to us. This is no easy task as we literally searched, visited, and asked, probably close to 500 websites to link to us (with a link back to their site of course). This proved to be very effective in the long-run as we've now compiled a decent list of reciprocating link partners. It would be nice to all of a sudden find a couple hundred more sites linking to us!



Incoming links from .edu and .org websites for KeepMyGolfScore.com
It has been said that links for .edu and .org sites give you more "quality incoming links" for your Google PageRank, and I suppose the thinking behind it is that .edu (educational) and .org (organizations) are more reliable when it comes to information accuracy. Therefore if you are linked to from an MIT physics research page rather than joes-basement-physics.com, it must be more reliable. While I may not necessarily agree, it does warrant consideration in certain circumstances, when the search subject requires pure information, and does not necessarily serve a commercial purpose.



More incoming links for HighlyStructured.com
After a month or so of posting (I want to make sure I have some kind of content base), I plan to start linking to outside search engine positioning blogs from the links page. When I browse around to the different search engine optimization blog sites I go to, I will do so from my links page. Eventually I will contact those people and ask for a reciprocating link, but I'm not holding my breath. I suppose my site would only warrant a return link in this huge sea of similar search engine ranking blog websites if I have decent, useful, insightful content, which is purely objective. But, hopefully some will, and it's possible one/some of the owners of these domains may notice incoming links from my website. This may be an artifial way of building up traffic to an outbound site, but it is a tactic I believe may help me get noticed.



An easier way to market a website online
Many marketing companies exist, and most delve at least minimally into online marketing and search engine optimization. There are also many PR companies out there, who can help push your name to many outlets, including newspapers, press releases, and online sources. What I'm interested in seeing a company that helps websites find advertisers interested in advertising online, based on the content they offer. I'm not talking about Google AdWords or any kind of content-based advertising systems. I mean real people finding real businesses to advertise specifically on a given website. Right now the only option is to contact businesses and ask them if they want to advertise on your site. Because many of the smaller sites are side-projects, time becomes a major issue when trying to find advertisers. If there were more companies that had hundreds or thousands of businesses looking to advertise to defined categories, and these companies were readily available, a nice network of niche websites and willing advertisers will come together.
It's obvious one of the most important things for the success and popularity of a website is incoming links. Incoming links tell the search engines you must have worthy content if other websites are linking to you. Link to HighlyStructured.com!
Technorati Tags: search engine optimization seo search engine positioning search engine rankings holiday wish list