RSS and Beyond
December 22, 2005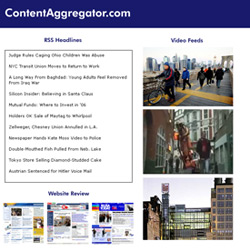 If the past few years were about the search engines and the honing of email marketing, the next few years will see the ubiquity of RSS feeds and a new type of launching point to browsing on the Internet.
RSS feeds bring about an important change in the way people approach the Internet, providing a new starting point to browsing the web. Instead of specifically looking for websites, website content is selectively delivered to a common interface to be chosen to be viewed. RSS feeds are the beginning of the ability to aggregate content and store it in a central repository for perusal at whatever time the administer sees fit. Part favorite's list, part Tivo, RSS feeds finally put the power in the hands of the visitor to choose which content he or she wishes to receive.
With bandwidth becoming larger and larger, and video starting to become mainstream on the web, it will only be a matter of time before the web and TV integrate. Digital video recorders are already commonplace, as is on-demand content via cable modems. Soon video and TV will be synonymous with the Internet. Fox.com will start providing individual sitcom access to be viewed at a visitor's whim, and CNN.com (which has already launched a full-fledged on-demand video news campaign), will make available up-to-the-minute video news feeds from around the world.
The need for some kind of aggregator, a starting point for collecting this data, will arise. Right now such an application might be compared to a "personal homepage" on Yahoo! or AOL. Only these new breeds of "content collectors" will contain all different kinds of media. I envision a cluster of video feeds, the latest news headlines, RSS type headlines from selected websites, and a host of other personalized data. The chosen data will be updated at specified time periods designated by the user so that content is collected all day long for the user, without any interaction. I suppose this would be similar to seeing nine different TV shows on a television screen at once and then selecting the show you'd like to watch. These new "information collection portals" would allow all different kinds of media to be collected and acted upon, and graphically customized to a user's delight.
With so much data and content available, it makes sense that the most popular sites and utilities are those that help people organize that data. RSS has opened the door to selective, opt-in content syndication and in the future, content-aggregators will become the next "big thing" on the Internet.
Technorati Tags: rss rss news feeds xml feeds future of rss news portals