Online Marketers - The New Breed
February 01, 2006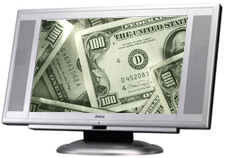 Anyone with a computer, an Internet connection, and a blog seems to be an expert online marketer nowadays. Perform a search for "online marketing" (with the quotes) on Google and you'll get almost 54,000,000 results!
I would venture to guess that a large majority of the online marketers out there today are part of the "get-rich-quick" group, offering to get every single page on your website ranked in the first position of Google for $25, guaranteed! After wading through these types of services/businesses you're left with a small percentage of people who pose as online marketing professionals. But who are they? Who do you go to if you want to get your website ranked higher on the search engines?
If you look at TV adertising, there are only so many stations and thus, only so many spots an advertiser can occupy. I would be willing to bet that a large majority of TV advertisement sales are done through a small number of media companies. These media companies are huge, with hundreds or thousands of employees, sales teams, and resources. While this may be a good fit for the seemingly static (as far as advertising technology goes) TV advertising industry, I do not think it meshes well with the ever-changing technologies that rule online marketing.
Search engines are constantly changing their algorithms, new types of advertising campaigns are constantly emerging (Google AdSense, YPN, Chitika, etc.), new technologies are constantly emerging (RSS), and new outlets for online information keep emerging (Google News, Yahoo! News, press releases - PRWeb, etc.). Because of this fast pace, it would seem to make sense that the bigger the company (where changes in marketing strategies, etc. could take weeks or months to develop), the less chance they are able to adapt quickly to change.
So what does this leave us with? Quite simply the cream-of-the-crop. What's left are smaller marketing "boutiques", often a one-man show. Some of these businesses excel at one type of marketing strategy (generating incoming links for example) and because of their knowledge and success, demand a decent amount of money for their services. Smaller companies and individuals are able to make decisions quickly, and can change their approach due to an algorithm change in Google in a week!
What I'm seeing are more and more "experts" come out of the wood-work. These are people who are on the Internet every day, researching marketing techniques and how the search engines work, and playing off the success of others. With time, experience, and good results, almost anyone can become an online marketer and with only a few key clients, can make a decent income.
Technorati Tags: online marketing seo search engine optimization internet marketing