Online Marketing Tips for New Websites
February 17, 2006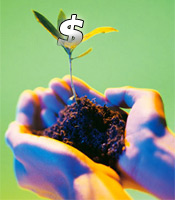 So you have a really great idea for a website. You've done some research, had some conversations, registered the domain name, and you're ready to go...now what?
Any new online venture needs to have online marketing as a main priority. Online marketing encompasses search engine optimization, press releases, link exchanging, and generally raising the awareness of your website.
Online marketing should be considered BEFORE the site is actually designed. I've seen far too many times where a website has already been designed and the site owners THEN consider online marketing. Supposing you've already researched the competition to find out if your site is even worthwhile, you're now ready to research the competition from a marketing stand-point. What kinds of keywords are they targeting? How many incoming links do they have? How many pages of content does the site have? What strategies do they employ to communicate with their audience? Once these questions have been answered, an initial direction can be chosen to take with your online marketing.
No matter what, you must start off with keyword research. After answering the above questions, you should have a pretty good idea of which types of keywords to target. Now you must go to the search engines and perform searches using those terms and see what kinds of results you get. If you get sites that seem relevant on the first page of the returned results, you have a good keyword. You must also consider alternative keywords, or different combinations of keywords. Software programs are often beneficial to help with this.
After the research is complete, you now need to select your final keyword set. The keywords you choose will help you produce worthwhile, search engine friendly content. I suggest producing one entire page for each keyword you target. Along with the content production, search engine optimization needs to be performed. Important keywords need to be given prominence using specific HTML tags (header, link, link title tags, etc.). Title and description META tags need to be cleverly written. And the internal link structure needs to be as search engine friendly as possible.
Once the content is in place the site is ready to be broadcasted. One of the things any aged website will have to do is try to obtain incoming links. Incoming links not only are good for the search engines, they literally act as a doorway to your website and content. The more incoming links you have, the more ways people can find your site. You should look to your competition to see where they are linked from, and approach those types of sites. This is a lot of work, but needs to constantly be performed.
I would also start releasing press releases. Many online press release distribution services make money through user "contributions". Putting in a minimum contribution will often allow you to use hyperlinks in your press release and will help get it picked up by the major search engine news listings. It's definitely worthwhile to make a contribution every once in awhile to get a boost in referrals.
Keep updating your content! The site should be updated at minimum once or twice per week. This lets the search engines know you are an active site, and at the same time your additional content gives you more searchable terms that people could use when performing searches at the major search engines. Not only that, but the more content you have the more useful the website will become to visitors.
That's it! For a startup website I recommend the above approach. I'd target for a Google PageRank of 3-4 and an Alexa Ranking of 300,000-500,000. This means your website is active, you have a decent number of incoming links, and you are getting some traffic to your site. Congratulations, it's time to move on to some more marketing initiatives!
Technorati Tags: online marketing search engine optimization seo sep search engine rankings rank higher on search engines marketing new website startup